First Atlantic storm of the year.

Tennessee Tornadoes: 21 killed after twisters strike state
That storm was moving so fast it moved through here in less than a half hour.
NASHVILLE, TENN. — Multiple people are dead after two tornadoes struck Tennessee early Tuesday, authorities said.

Here are the latest updates:

Update 3:40 p.m. EST March 3: Nashville police identified two people killed Tuesday morning when they were struck by debris as tornadoes blew through parts of Tennessee as Michael Dolfini, 36, and his 33-year-old girlfriend, Albree Sexton.

Update 3:10 p.m. EST March 3: Nashville Mayor John Cooper signed an executive order Tuesday declaring a State of Emergency in the Nashville metropolitan and Davidson County areas after a deadly tornado tore through the area in the early morning hours.

Update 12:40 p.m. EST March 3: Officials with the Tennessee Emergency Management Agency confirmed the death toll associated with Tuesday's early morning tornadoes in Tennessee has risen to 22.

According to the Tennessee Department of Heath, 16 people were killed in Putnam County, three in Wilson County, two in Davidson County and one in Benton County.

Severe storms crossing the state left heavy damage throughout West and Middle Tennessee, officials said.
Storms kill at least 8, with tornadoes, flooding and crippling ice still in the forecast for eastern US
It was a real interesting time through last night, but we're all still here looking at the snow fall.
At least eight people have died as a result of storms bearing down Saturday on the eastern half of the United States, authorities say, with dangerous winds and tornadoes in the South and potentially crippling snow and ice in the Midwest still possible through the weekend.

Hundreds of flights have been canceled or delayed at Chicago's O'Hare International Airport as the city faced wintry precipitation and strong winds.

The storms are primarily hitting the Southeast and Midwest and will reach the Northeast into early next week.
Old Farmer's Almanac vs. NOAA's Winter Forecasts
Weather.com reported this week that massive winter storms of snow, ice, and freezing weather have wreaked havocacross the Midwest and Northeast.

In addition, Weather.com reported that over 400 daily cold records were set since the cold flowed into the continental US in mid-November.

NOAA'S Winter Climate Forecast

The National Oceanic and Atmospheric Administration forecast in the Autumn, that warmer-than-average temperatures were in store for the country.

NOAA wrote on October 17th "Winter Outlook: Warmer than average for many, wetter in the North."

"Warmer-than-average temperatures are forecast for much of the U.S. this winter… below-average temperatures are not favored."

Given that NOAA predicted a warm winter, we have to ask… is there any climate organization that can be trusted to make accurate forecasts?

There is, and of course, it's the Old Farmer's Almanac…………..

This Winter's Climate (2019 – 2020) Forecast Made In The Autumn By The Almanac

The managing editor of Almanac Version 1 (founded 1792) summed it up:

"We're using a very strong four-letter word to describe this winter, which is C-O-L-D. It's going to be very cold.

Version 2  of the Almanac (founded 1818) agrees.

"We expect yet another wild ride this winter," editor Peter Geiger said, "with extreme temperatures swings and some hefty snowfalls."

The coming winter is described by version 2 as a "polar coaster" for about 70% of the US.

According to the Almanac, which has been on the bullseye recently in winter forecasts, the Northern Plains and Great Lakes area should expect temperatures dropping to -40 (F).

The Almanac provides climate forecasts nationally and state-by-state. Iowa, for example, is predicted to have a "frigid and snowy" winter.

Democrat-controlled Illinois, which is preparing for global warming, and putting the few and obsolete snowplows they have into storage based on the NOAA mild weather prognostication…is projected to have it even worse than Iowa.

Illinois has a dual-winter climate forecast with part of the state "frigid and snowy" and the other part "frozen and snowy".

"Only the western third of the country will see near-normal winter temperatures, which means fewer shivers for them," the Almanac (Version 2) writes.

The Old Farmer's Almanac forecast a brutally cold winter for 70% of the country. So far this year, the Almanac has been right on target.
Exposing How The Hoax Of Climate Change Drives Delirious Political Policies
Once again, it's Throwback Tuesday and time to wrap up the series on the hoax of man-made climate change by covering how undermining legitimate science affected government policies based upon fraudulent science.  Despite the scandal of Climategate in 2009 and Climategate 2.0 in 2011, the UN IPCC and associated scientists, whose wealth redistribution scheme was based upon the hoax of climate change, work doubly hard to discredit legitimate scientists, as we have found, through unsavory tactics and issue increasingly worsening fraudulent reports based on a political agenda instead of actual scientific data.  Through this measure, it uses fearmongering tactics to brainwash the people and those in government into buying the snake oil that stifling wealthy nations' economies to give third world nations other people's money will end/disrupt/quell/limit/slow climate change through decreasing the non-greenhouse gas of Carbon Dioxide (CO2).

Numerous former UN IPCC scientists with impressive credentials and legitimate work, who became disillusioned with the panel and its politically manufactured "scientific" conclusions, are willing to testify to the dishonesty of the process.  But, the UN IPCC chief Rajendra Pachauri, in conjunction with Al Gore, calls "climate change" his religion.  Pachauri is no longer with the UN IPCC because of a sexual harassment scandal.  Pachauri's resignation letter read, "For me the protection of Planet Earth, the survival of all species and sustainability of our ecosystems is more than a mission. It is my religion and my dharma".

Donna Laframboise, a journalist who has written numerous books critical of the UN IPCC, indicates the IPCC reports lack scientific integrity and individuals relying on those reports are basing decisions on information lacking scientific integrity.  According to Laframboise, "the IPCC goes back, after the fact, and changes the original scientific report so that it aligns with the politically negotiated summary".

She also noted, "After the summaries are haggled over, the IPCC alters what the scientists wrote. That's the reason the IPCC routinely releases its summaries before it releases the underlying scientific report. In this 2007 news clipping, the IPCC chairman explains: "we have to ensure that the underlying report conforms to the refinements."

Greenpeace co-founder turned climate skeptic Dr. Patrick Moore commented on Laframboise's report, noting this is the "perfect reason for the US to abandon the UN Paris climate 'agreement.'"
Western Hudson Bay Freeze-Up Earlier Than 1980's Average for Third Year in Row
GlowBULL warming.
This is the third year in a row that freeze-up of Western Hudson Bay (WH) ice has come earlier than the average of November 16 as documented in the 1980s.

Reports by folks on the ground near Churchill confirm polar bears are starting to move onto the sea ice that's developing along the shore after almost five months on land.

After five good sea ice seasons in a row for WH polar bears, this repeat of an early freeze-up means a sixth good ice season is now possible for 2019-2020.
GlowBULL warming……
Meteorologist Paul Dorian: "Perhaps the most amazing temperature recorded in this unusual cold spell for the western US took place earlier today in the remote observing station of Peter Sinks, Utah…the unofficial overnight low temperature there of -43.6 ºF is pretty amazing for this time of year and perhaps the lowest temperature ever recorded in the Lower 48 during the month of October.

Nearby Salt Lake City, Utah provided some supporting evidence of the extreme cold as it set a low temperature record of 14 ºF for the date and records there go all the way back to 1874.
---
Chicago gets its earliest snowfall in 30 years as cars crash on slick roadways, homes lose power and residents reschedule Halloween trick-or-treating.
An arctic blast is sweeping into the US that will engulf much of the country as 20 million people are issued with a tornado warning and severe storms batter many states.

A freeze warning has been issued across the country from Texas to California, the Carolinas and Georgia.

Temperatures are expected to drop as much as 30 degrees as a cold front blows in from Canada starting Thursday and into Friday.

As of Thursday evening the freezing temperatures are concentrated in northeastern states like Illinois, Ohio, and Indiana.
…Major winter storm to bring heavy snow and high winds to parts of the
Northern Rockies…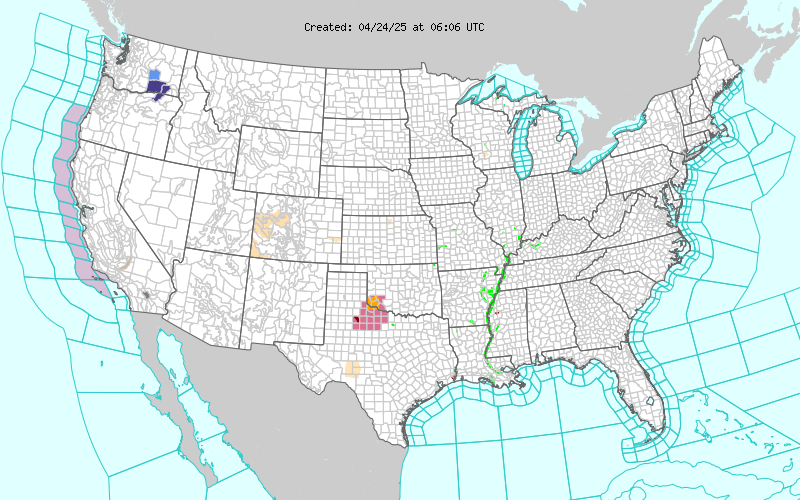 …Much below average temperatures across the Northwest, with much above average temperatures east of the Rockies… …Heavy rainfall and severe weather possible across parts of the north and central U.S. through Monday… A major to potentially historic early season winter storm is ongoing today across parts of the Northern Rockies as an anomalous upper level low pressure system rotates aloft. Heavy snowfall, strong winds, and potential blizzard conditions will continue across the Northern Rockies through Sunday. Widespread winter storm warnings and advisories are in effect from the interior Pacific Northwest through western Montana and northwest Wyoming. As much as 1 to 3 feet (locally more) of snowfall is possible, especially across western Montana which would create dangerous to impossible travel conditions across the region. This system will also usher in a very cold airmass, at least for September standards, with daytime highs 20 to 30+ degrees below average across much of the Northwest. Many daily record low maximum temperature records are possible through Monday, especially across the Northern Great Basin/Rockies, and California.
Food truck driver makes meal on I-10 for stranded drivers
WINNIE, Texas (KTRK) — One area that was seriously impacted by Imelda was Winnie in Chambers County and I-10 is still shut down in that area and could stay that way for days.

As Tropical Storm Imelda hit, 200 vehicles became trapped on I-10. One of them belonged to Reggie McCoy.

He was driving an 18-wheeler with a food delivery going to Beaumont. A day and a half later, there was still high water.

"The area right here, we got a lot more water," said McCoy as he showed ABC13 the flooding via Skype. "You can see it right here."

McCoy was stranded on I-10 for more than 36 hours, he says. With a truck full of food and nowhere to go, he asked his boss if he could share.

"He was like, 'Hey, whatever anybody needs. Let's get it off the truck.' We've got water. We've got milk, toilet paper," explained McCoy.

Then he met another stranded driver, Kenny the cook. McCoy had some chicken, so they got a grill and Kenny was able to prepare it right there on I-10.

"We had chicken wings last night and a few grape tomatoes and chips and milk," said McCoy.

Kenny the cook was happy to help.

"In 2005, Houston took me in from Katrina, so, I'm just giving back, that's all," said Kenny.

McCoy said they were able to feed between 30 and 40 people……
Here's another on to keep an eye on.

The Bahamas are getting hammered again.
Still a problem for the people on the east coast.
Hurricane Dorian Will Pound Coasts of Georgia, South Carolina, North Carolina, Virginia Through Friday
Hurricane Dorian will track near the coasts of Georgia, South Carolina, North Carolina and southeastern Virginia into Friday, delivering a siege of storm-surge flooding, high winds and flooding rain.

Dorian's maximum sustained winds have increased slightly, currently a Category 2hurricane. Regardless, Dorian will have significant, damaging impacts near and along the Southeast coast.