Exclusive: Fox News Executives Censor Tucker Carlson in Order to Protect Pfizer
The first line of Tucker Carlson's monologue last night was, "How powerful exactly are the big pharmaceutical companies in this country?"
It turns out the answer is: powerful enough to censor Tucker Carlson, the #1 most watched show on cable news.

BREAKING:
@pfizer
Exploring "Mutating" COVID-19 Virus For New Vaccines "Don't tell anyone this…There is a risk…have to be very controlled to make sure this virus you mutate doesn't create something…the way that the virus started in Wuhan, to be honest."
#DirectedEvolution
This story was promptly censored by Google.

.
@Project_Veritas
exposed what's probably the most important story on Pfizer and Covid. But if you Google it, you get this: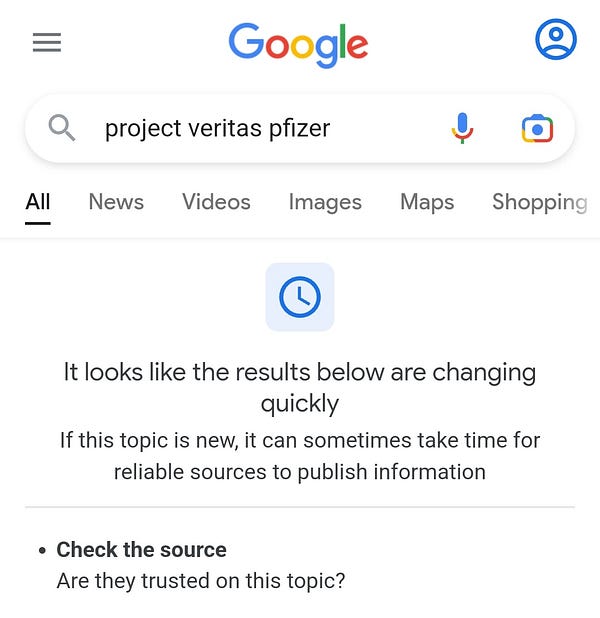 None of the cable news anchors at any network reported on it, not even at Fox.
Except for one, Tucker Carlson.
Here is the 16-minute long monologue, broken up into 2 parts:
We reached out to Pfizer today and asked if Pfizer is conducting experiments to mutate new coronaviruses for profit, or whether they're contemplating it. But despite their famously well-funded PR department, they refused used to answer.https://t.co/LNd8ftLDQO pic.twitter.com/NHf4BBvj9X

— Tucker Carlson (@TuckerCarlson) January 27, 2023
When the episode was uploaded to Fox Nation this morning, however, the monologue was less than 4 minutes long. Fox Nation is Fox's subscription video service that uploads every episode after it airs.
Fox Nation is paywalled, so you can't check yourself, but here is a screenshot showing the first guest appearing at the 4:02 mark. In contrast, in the full monologue, this guest appears at the 16:00 minute mark.
Where did those missing 12 minutes go?
A couple of small twitter accounts noticed, but only garnered 1 or 2 likes.
Why did Fox nation remove the Project Veritas pfizer video segment from last night episode of
@TuckerCarlson
?
What happened to
@TuckerCarlson
on Fox Nation his monologue on Pfizer was cut as soon as he was going to play the
@Project_Veritas
video what's up with that 🤔
These 12 minutes were edited out by Fox corporate executives who have greater editorial control over Fox Nation than they do Tucker's Twitter account. Fox News executives are famously much more liberal than their viewers or anchors — for instance, during the pandemic, Fox headquarters quietly implemented its own version of a vaccine passport while its top personalities attacked them.
They have never surreptitiously cut the bulk of any Tucker monologues on Fox Nation before, as far as I can tell. I reached out to the Fox News media relations team to ask why they decided to cut those 12 minutes, and to ask if they had ever cut the bulk of a Tucker monologue before posting it on Fox Nation, but did not receive a response by the time I published this article.
There you have it: Fox News executives censored the biggest story of this month so that Pfizer wouldn't be embarrassed. They don't want you to know that Pfizer may be conducting gain of function research.
I wonder why?
Shameful.