Happy 100th Birthday Eugene Stoner!
Indiana's own Eugene Morrison Stoner cut his teeth in small arms as a Marine Corps armorer in World War II and left the world some of the most iconic black rifles in history.
Born on Nov. 22, 1922, in the small town of Gosport, just outside of Bloomington, Indiana, Stoner moved to California with his parents and graduated from high school in Long Beach. After a short term with an aircraft company in the area that later became part of Lockheed, the young man enlisted in the Marines and served in the South Pacific in the Corps' aviation branch, fixing, and maintaining machine guns in squadrons forward deployed as far as China.
Leaving the Marines as a corporal after the war, Stoner held a variety of jobs in the aviation industry in California before arriving at ArmaLite, a tiny division of the Fairchild Engine & Airplane Corporation, where he soon made his name in a series of ArmaLite Rifle designs, or ARs, something he would later describe as "a hobby that got out of hand."
AR-3
A "lost" Armalite is the prototype select-fire battle rifle designed by the company to fire the then-experimental T65E3 cartridge, which became the 7.62 NATO. Similarly, Springfield Armory was testing the T44 and T48 rifles in the same caliber, as a potential replacement for the M1 Garand. The T44 and T48 grew up to become the U.S. M14 and FN FAL, respectively. Tough competition.
A smaller version of the rifle, chambered in .222 Remington, was prototyped as the AR-11 and likewise never made it to production. The AR-12 had much the same story, never leaving the drawing board.
AR-5
A bolt-action rifle, the AR-5 was chambered in .22 Hornet to replace the U.S. Air Force's stockpiles of H&R-made bolt-action aircrew survival rifles. To conserve space and weight, the gun had a hollow plastic stock that the takedown barrel could be stored in and, best yet, the whole thing could float. While the USAF reportedly liked it, the AR-5 was not adopted. This design was reworked for the commercial market and found much more success as the…
AR-7
Taking the general concept of the AR-5 and applying it to a semi-auto chambered in .22LR with a steel-lined 16-inch aluminum barrel, the AR-7 Explorer was born in 1959, at the same time as Remington's Nylon 66, and proved Armalite's first commercial success, being produced by the company until 1973. Since then, it was made by Charter Arms, Survival Arms, and others, with New Jersey-based Henry Arms producing it as their U.S. Survival rifle since 1998.
AR-9
Showing that not all ARs are rifles, Armalite worked on the AR-9, a very lightweight — 5.5-pound — semi-auto shotgun with foam-filled plastic furniture and a high-strength aluminum receiver and barrel.
This later became the AR-17, which entered production in 1964 and only sold about 2,000 examples during its short two-year run, making it a sought-after collector's item today. Curiously, it was marketed in not only a basic black finish but also a gold one as well.
AR-10
Learning lessons from their earlier attempt at a battle rifle in the AR-3/AR-11/AR-12, Stoner at age 35 came up with the rifle that became the AR-10 around 1955 and Armalite was soon submitting it to the Army for testing. Using a top-mounted carrying handle on the upper receiver that held a rear sight, the 7.62 NATO-caliber select-fire beauty, like Armalite's previous designs, contained lots of aluminum and plastics, and was one of the first such designs considered seriously by the military for adoption. It made a big difference as the gun was more than 3 pounds lighter than the M1 Garand while having the capability of firing at 600 rounds per minute in its select-fire mode.
Stoner even starred in the 15-minute ArmaLite video on the AR-10, from putting on a pair of olive drab fatigues and hip-firing the gun as he single-handedly stormed a beach with the rifle to field stripping it on camera while wearing a suit and bow tie: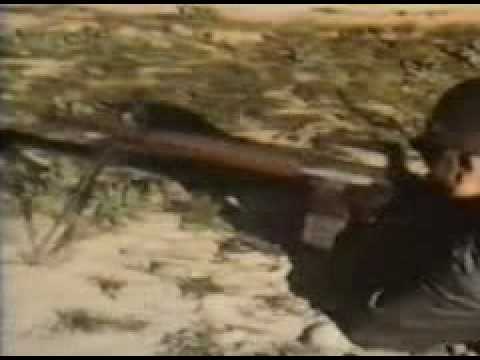 In the end, the AR-10 was not adopted by Uncle Sam, who unsurprisingly went with Springfield Armory's in-house developed M14 in 1957, but the gun, licensed to Dutch arms maker AI– as part of a tie-in with Fairchild making the Fokker F27 under license– and was adopted in small numbers by Portugal, Sudan, and even by KLM Airlines!
In its later (post-1980s) redesigned semi-auto format that is actually more of an upsized AR-15, the updated AR-10 thrives on the commercial market today by Armalite while clones along the same line such as the Smith & Wesson M&P 10, Anderson AM-10, Windham Weaponry SRC, and Daniel Defense DD5, carry on the legacy on their own.
The AR-13 and AR-14 were both wildly different prototypes from all the other Armalites, the first reportedly an early multi-barreled aircraft gun, the second a semi-auto rifle in hunting calibers.
This brings us to the…
AR-15
Scaling down the gas system and general concept of the AR-10 to use the 5.56mm NATO round, Armalite's AR-15 proved a slam dunk winner– for Colt– as Armalite sold off the design to the Connecticut-based company in 1959 who soon successfully pitched it to the U.S. Air Force for use with Security Police guarding bases. Within a few years, it had been adopted by the entire U.S. military and saw extensive service in Vietnam.
Today, Colt still produces the AR-15 and follow-on M16 and M4 series rifles in several variants for both the military (select-fire) and consumer (semi-auto) markets. As for Armalite, they went to the M-15 name for their AR-15 pattern rifles in recent years.
AR-16
With most of the trade secrets that made the AR-15 so novel going to Colt and from there largely into the public domain, Armalite began work on a new 7.62 NATO battle rifle with a stamped receiver.
Rather than the AR-15's buttstock buffer spring, the AR-16 used a twin pair of action springs to eat up recoil and a short-stroke gas piston action with an operating rod over the barrel and a rotating bolt. This, in turn, allowed a folding stock. While the AR-16 was not successful and never made it past low-level prototype runs, its design, rechambered for 5.56, went to live on as the…
AR-18
Using groundwork from the unproduced AR-16, the AR-18 was chambered in 5.56 NATO and (stop us if you have heard this before) was unsuccessfully pitched to the U.S. Army as a new infantry rifle. Like with their previous AR-10, the AR-18 was licensed to overseas gun makers such as Howa in Japan and Sterling in the UK while the company, still based in California, also licensed production of semi-auto AR-180 variants and, after the company was rebooted, the polymer-receiver AR-180B.
The original Armalite went belly up in 1983, with its parts and machinery being exported to the Philippines where the AR-18 was to be produced, although that plan did not ultimately pan out. Rebooted in the U.S. in 1995 by Eagle Arms, the current Armalite is based in Illinois and produces not only the M-15 series ARs, and AR-10 variants but also the AR-31 (.308 Win) and AR-50 (.50 BMG) bolt action rifle
Once departed from ArmaLite, Stoner would go on to work for Colt and pioneered a concept similar to Melvin Johnson's multipurpose modular weapons system of the early 1940s but more advanced. This led to Stoner's Model 63 platform that, manufactured by Cadillac Gage, was capable of being converted from an infantry rifle to a light machine gun to a fixed machine gun by swapping out barrels and other components, enabling no less than 15 different configurations.
The Stoner 63 went on to be trialed by the Army and Marines as the XM22/XM23/XM207 and fielded by the Navy as the Mk 23 in small numbers, the latter by Navy SEALs in Vietnam.
Founding ARES Incorporated in Ohio in 1971, Stoner remained with that company until 1989, lending his knowledge to a host of futuristic arms and ordnance programs touching on auto-cannons, advanced barrels, anti-armor weapons, and telescoping/plastic-cased ammunition. During this phase of his career, he designed the ARES LMG-1, or Stoner 86 light machine gun, Stoner's concept for a Squad Automatic Weapon.
An oral history of that period conducted in 1988 with Stoner himself is in the collection of the Smithsonian Institution Archives and "The Stoner Tapes," spanning several hours, are highly informative for any student of firearms history.
By 1990, Stoner was working with Reed Knight's Knight's Armament Company in Titusville, Florida where the inventor would arguably perfect what he started with the AR-10 rifle system in the 1950s and produced the SR-25 rifle. This "modern AR10" has gone on to become the standard for the .308/7.62 NATO AR-series rifle and grew into the military's Mk 11 and M110 series precision rifles. He has more than 60 patents listed.
Stoner would pass in 2007, aged 74, and is buried at Quantico National Cemetery in Triangle, Virginia, adjacent to the U.S. Marine Corps training base. His VA standard headstone simply includes his rank, corporal, and notes his WWII USMC service.
KAC's Institute of Military Technology, produced an excellent 30-minute video on Mr. Stoner in 2019, using late interviews with Mr. Stoner and original designs in the museum's collection.