In veiled warning to Iran, U.S. tells Gulf mariners to stay clear of its warships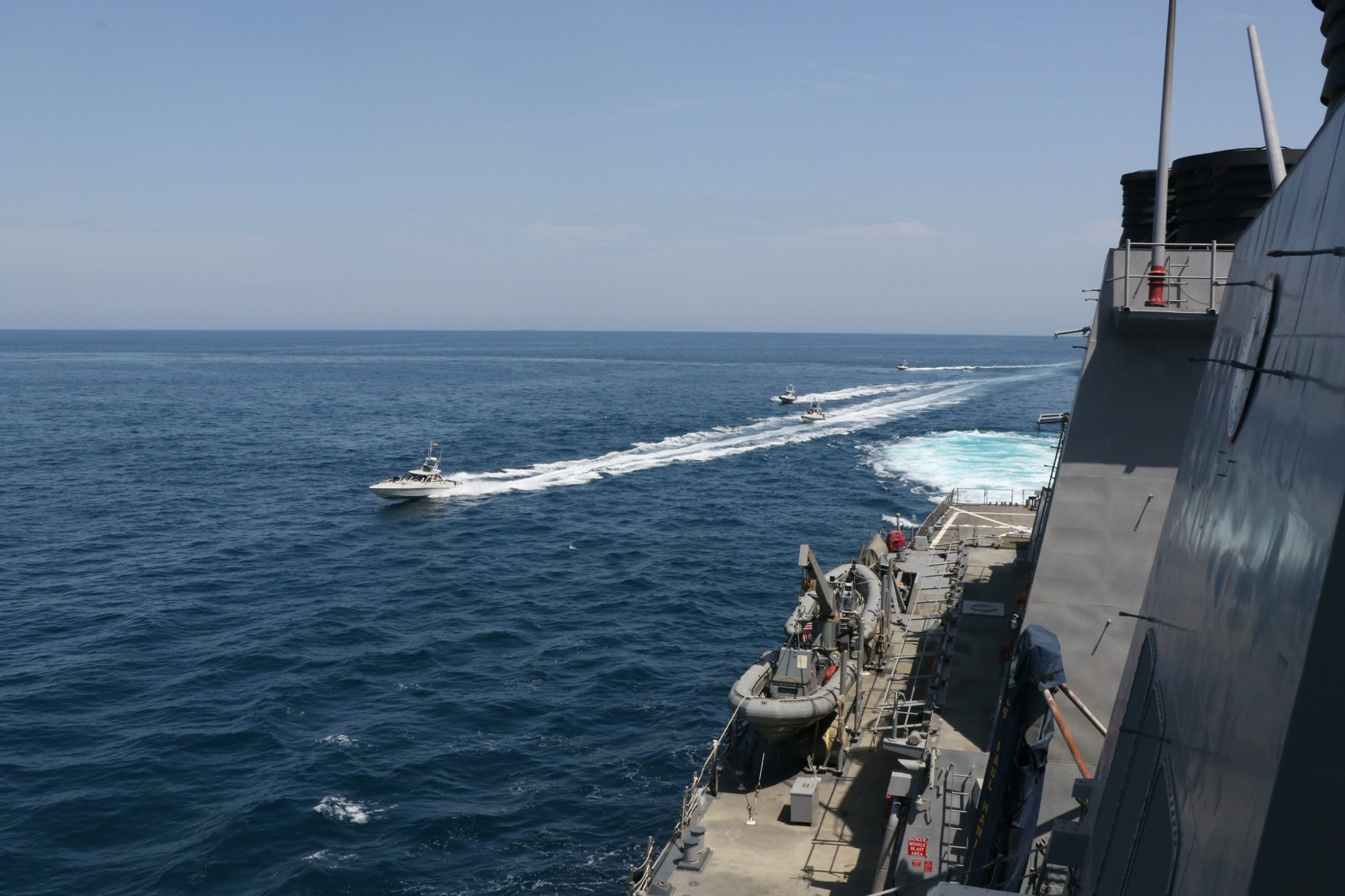 Iranian Islamic Revolutionary Guard Corps Navy (IRGCN) vessels conducted unsafe and unprofessional actions against the guided-missile destroyer USS Paul Hamilton (DDG-60) in April---U.S. NAVY
WASHINGTON (Reuters) – In an alert that appeared aimed squarely at Iran, the U.S. Navy issued a warning on Tuesday to mariners in the Gulf to stay 100 meters (yards) away from U.S. warships or risk being "interpreted as a threat and subject to lawful defensive measures."
The notice to mariners, which was first reported by Reuters, follows U.S. President Donald Trump's threat last month to fire on any Iranian ships that harass Navy vessels.
"Armed vessels approaching within 100 meters of a U.S. naval vessel may be interpreted as a threat," according to the text of the notice:
HYDROPAC 1478/20(62,63).
ARABIAN SEA.
GULF OF OMAN.
PERSIAN GULF.
DNC 03, DNC 10.
U.S. NAVAL FORCES ARE CONDUCTING ROUTINE
OPERATIONS IN THE REGION WITH A COMMITMENT TO
FREEDOM OF NAVIGATION AND THE FREE FLOW OF
MARITIME COMMERCE. DUE TO RECENT EVENTS, IN
ORDER TO ENHANCE SAFETY, MINIMIZE AMBIGUITY, AND
REDUCE OPPORTUNITIES FOR MISCALCULATION, ALL
VESSELS ARE ADVISED TO MAINTAIN A SAFE DISTANCE
OF AT LEAST 100 METERS FROM U.S. NAVAL VESSELS
IN INTERNATIONAL WATERS/STRAITS. ARMED VESSELS
APPROACHING WITHIN 100 METERS OF A U.S. NAVAL
VESSEL MAY BE INTERPRETED AS A THREAT AND
SUBJECT TO LAWFUL DEFENSIVE MEASURES. MARINERS
ARE REMINDED TO OPERATE IN ACCORDANCE WITH
INTERNATIONAL LAW AND WITH DUE REGARD FOR THE
SAFE NAVIGATION OF OTHER VESSELS. ALL VESSELS
OPERATING IN THE VICINITY OF U.S. NAVAL VESSELS
ARE ADVISED TO CLEARLY COMMUNICATE INTENTIONS,
RESPOND TO QUERIES CONCERNING COURSE AND SPEED,
EXERCISE PRINCIPLES OF PRUDENT SEAMANSHIP AS
REQUIRED UNDER INTERNATIONAL LAW, AND REMAIN AT
THE MAXIMUM AVAILABLE DISTANCE FROM U.S. NAVAL
FORCES.//
A U.S. official, speaking on condition of anonymity, said the new notice to mariners was not a change in the U.S. military's rules of engagement.
The Pentagon has stated that Trump's threat was meant to underscore the Navy's right to self-defense…….
It follows an incident last month in which 11 Iranian vessels came close to U.S. Navy and Coast Guard ships in the Gulf, in what the U.S. military called "dangerous and provocative" behavior.
At one point, the Iranian vessels came within 10 yards (9 meters) of the U.S. Coast Guard cutter Maui, the U.S. military said.
Trump's threat followed that incident, which Tehran, in turn, said was the fault of the United States………..